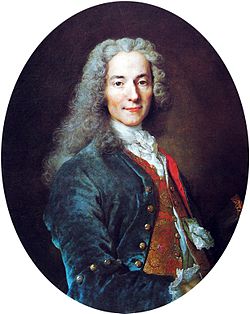 After watching the news today, I think it appropriate to quote the French writer and philosopher Voltaire, who said
Those who can make you believe absurdities can make you commit atrocities.
I think this quote is so true. Like many people, I was raised to follow a religion. As a young child I began to question things and think the religion I was told to believe was all nonsense. None of it made any sense. It bothered me a bit in the sense that I knew I was a good kind and spiritual person but when I dared to question religion, I felt as though I was made to feel like a cold hearted atheist. Of course I am not an atheist, I don't like to put labels on myself, but I am closer to being an agnostic. I have never talked to god, seen god, I don't know if God exists or not. There are some things I simply do not know and I am fine with not knowing.
Another quote from Voltaire is
Think for yourselves and let others enjoy the privilege to do so, too.
I don't tell anyone what to believe, but what I do like to do is to encourage people to open their minds and think for themselves. I have been searching for what I believe is the truth about life for several decades, and I can honestly say what I have discovered and experienced about life is far more comforting than anything I have ever read about in any religious book. I think the truth about life is available to anyone, it is not just the special domain of a certain race of people who lived during a certain period of time.
And finally
Meditation is the dissolution of thoughts in Eternal awareness or Pure consciousness without objectification, knowing without thinking, merging finitude in infinity.
I think that we are more than just our bodies or even our minds, which are nothing more than a biological computer. We are our consciousness, our soul, that which accounts for a person being kind or otherwise, and that which in my opinion is eternal.